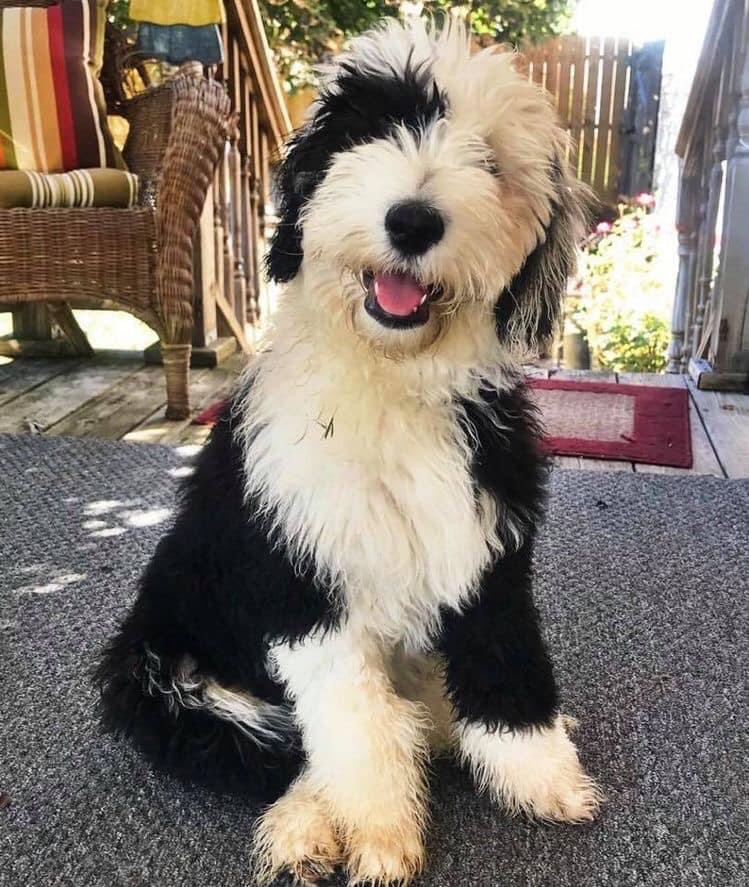 Sheepadoodles are a hybrid between a Poodle and an Old English Sheepdog. The product of crossing these breeds results in the pup having a very unique, fluffy coat which is low allergy triggering and very minimal shedding.
Our Standard Sheepadoodle's average size is 45-65 pounds and between 21-25 inches tall, which is typically the same size as a standard poodle.
Each puppy/dog pictured on this site has been produced by down yonder doodles
The average lifespan of a Sheepadoodle is 12-15 years.
Sheepies are loving and loyal, yet silly and playful which make the them the perfect family pet. Sheepadoodles take the term "mans best friend" very literally, and will unknowingly improve your quality of life which is why we chose to breed them!!
​​Sheepadoodles are super trainable! They are very much kid-friendly dogs and love attention and affection.
They are exceptionally affectionate dogs and are non-aggressive. Sheepies really dedicate themselves to being your BFF, and they make sure you know it. Sheepadoodles have gentle, funny personalities and are happy and super sweet. They are moderately active, which makes them less maintenance than a high-activity breed of dog. Sheepadoodles live for cuddling and are happy just to see you happy!
View Sheepadoodle Pricing
Parti (black&white) – $2150
Solid black – $1500
Mini + $600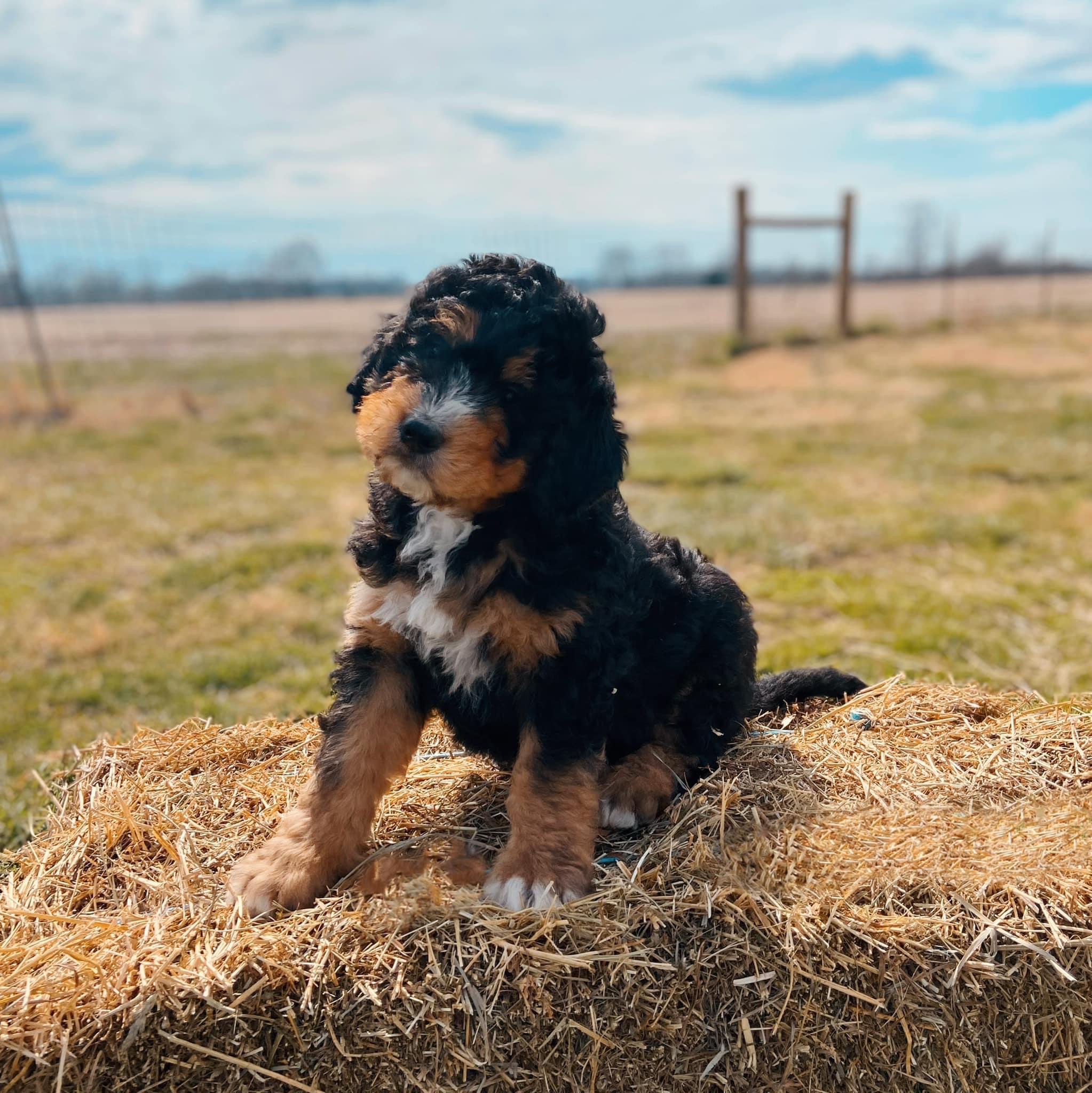 The bernedoodle is a hybrid between a Bernese mountain dog and a poodle. The result blends the clever goofiness and intelligence of the poodle, with the well-known loyalty of the Bernese. As with all of our doodles, this doggo is low to non-shedding, and is a safe bet for most people with allergies.
Our bernedoodle pups are on the smaller side of the average standard spectrum. They are expected to mature anywhere from 45-60 lbs and 20-24 inches tall. Their life expectancy is 12-18 years, and they will dedicate most of that time to being your own, personal cuddle buddy. 
Bernedoodles love children and are great with other pets. They are jolly and playful, but also exhibit a laid back and quiet-natured disposition. This breed has a "go-with-the-flow" menatlity and a remarkably gentle demeanor. What's not to love about this chill dood?!
Each bernedoodle pup, like our other doodles, is one-of-a-kind. Maybe we are biased, but they are all equally adorable! The genes from the parent breeds result in unique ways, and it's fascinating to see what each litter produces.
View Bernedoodle Pricing
Tri color – $2500
Solid (black) $1500
Mini + $600
This breed is a hybrid between the Australian Shepherd and Poodle. Incredibly smart, playful, and loyal, these pups inherited some of the best qualities from both of their parents.
Our Aussiedoodles average anywhere from 30-50 lbs, and have a height expectancy of 14-23 inches. Their average lifespan is 10-13 years. 
The aussiedoodle often refered as the "Einstein doodle" comes from two highly intelligent dog breeds, so you can look forward to an easy, and even enjoyable training process. These pups are higher energy dogs than our other doodle breeds and require more playtime and excersise. This makes them ideal for families with older children, or an active family who can keep up with their energy levels. They are also incredible therapy dogs, given how quickly they bond to a specific human or two.
View Aussiedoodle Pricing
Solid (red, chocolate) – $1850
Solid (black) – $1500
Phantom – $2250
Merle – $2500
Mini +$600